Taylor Swift debuts pop-inspired fifth album, 1989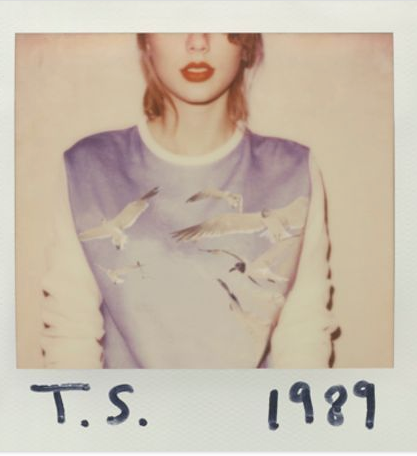 Emily Berthiaume, Teen Interest Editor
November 5, 2014
Taylor Swift, a seven-time Grammy winner, best-selling digital music artist of all time, and the only female artist in music history to twice have an album sell one million copies the first week of sale, released her fifth studio album, titled 1989 after her birth year, on October 27, 2014.
On August 18, Taylor Swift held a Yahoo live-stream from New York City where she released her single, Shake it Off, and officially announced the release of 1989. In front of a crowd of handpicked fans, Swift revealed that 1989 is her "first documented, official pop album". While her first albums were mostly country, such as Taylor Swift (2006) and Fearless (2008), her trend toward pop was evident in Speak Now (2010) and Red (2012), and 1989 is fully pop. She also revealed that late-'80s pop was a major inspiration for 1989.
"I really loved the chances they were taking. I loved how bold it was," Swift said. "It was, apparently, a time of limitless potential. … The idea of endless possibility was kind of a theme in the last year of my life."
The music video for Shake it Off, the first single from 1989, was also released during the live stream. The video depicts groups of professional dancers, such as ballerinas, rhythmic gymnasts, and modern dancers, with Swift thrown into the middle. As they dance seriously, Swift acts silly and crazy, as if she was dancing by herself and just having fun. The music video also features real fans dancing with Swift.
Shake it Off debuted at number 1 on the Billboard Hot 100 chart, making it her second No. 1 song, after We Are Never Ever Getting Back Together in 2012. As of the week of November 1, Shake it Off was at number 2 and had spent 9 weeks on the charts. Shake it Off also had 544,000 first-week downloads sold, which was the fourth highest of all time. As of October 27, the music video had garnered more than 208 million views.
Swift also held what became known as "secret sessions" in London, New York, Nashville, Rhode Island and Los Angeles to promote 1989. Swift and her team selected special fans to get together with Swift at her personal homes to listen to 1989 early and eat her homemade cookies.
Next, Swift released Out of the Woods, which was not her next single but "a new song I think best represents 1989", Swift tweeted. Out of the Woods, a collaboration with Jack Antonoff of Bleachers and fun., was released October 14 and went straight to number 1 on iTunes. She then announced she'd be posting a lyric from each track of the album for each of the 13 days leading up to 1989's release. Welcome to New York, a collaboration with OneRepublic's Ryan Tedder, was then released on October 20. Since Swift had recently moved from Nashville to New York, the song seemed appropriate and fit with the new pop vibe of 1989.
"The inspiration that I found in that city is kind of hard to describe and hard to compare to any other force of inspiration I've ever experienced in my life," Swift said in an interview with E! Online. "I approached moving there with such wide-eyed optimism and sort of saw it as a place of endless potential and possibilities. You can kind of hear that reflected in this music and this first song especially."