Martin races towards goal of state championship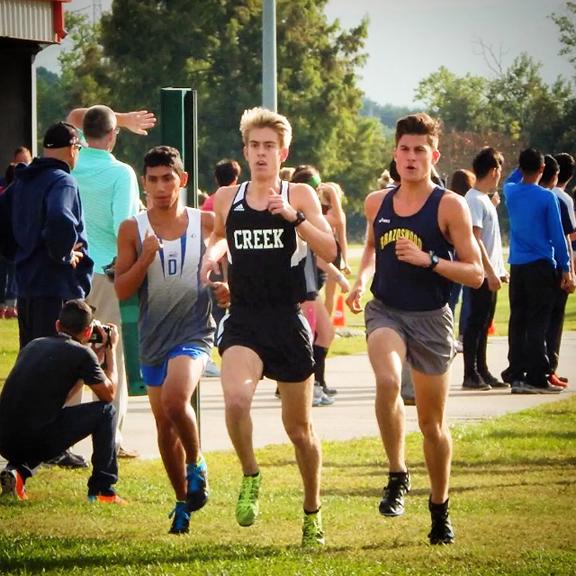 He's the one to take the road less traveled. Tyler Martin, junior, has spent the last three years of high school dedicating himself to cross country and track, most notably for his 5K runs. His most recent success was at the District track meet where he took second place with a time of 15:51. This landed him a place at the Regional meet to take place at Atascoita allowing him to continue down the road to hopefully a state victory.
As a sophomore, Martin was the first runner to secure a spot at State from Creek in many years. He placed sixth in Region with a time of 16:15.50, so along with the other runners that placed in the top ten, Martin received the chance to compete at State. At State last year, Martin ranked 46th with a time of 16:58. Compared to his previous freshmen rank of 40th at Region, Martin has proved that all of his hard work is paying off. After the 60 to 70 miles in the blistering hot summer heat to the additional hours of swim cross training, Martin has consistently strived to improve and push himself to be the "one the best runners and the best [he] can be."
Entering high school, Martin had already set goals for himself. To this day, Martin continues to strive toward winning first place at State. He plans to make that dream come true senior year and to be on the podium this year.
Coach Ruben Jordan describes Martin as, "one of the hardest working kids [he's] seen in a long time." Jordan believes it is his "drive to be the best and his drive to compete," that allows him to reach the success he has today.
"Some mornings Tyler will call me and ask me what time I'm getting to school. He'll get here before I do and start his work out. It takes a lot of commitment. I'm just glad to be around a high school student who had dedicated himself the way Tyler does," Jordan said.
Happy to handle whatever pain comes his way, Martin is constantly working towards his dream to achieve the self-satisfaction that comes with hard work. His commitment comes in many forms. From getting up at 5 am to squeeze in an extra run or finding time in the evening to do it after school, Martin tries his best to take every chance to make himself become the runner he wants to be.
"I think what sets me apart is how I push myself through more pain than anyone else. I try to go through more pain than everyone," Martin said.
With every step towards the finish line or through every difficult training session, Martin reminds himself of the success he is working towards with a simple mantra.
"Whenever I'm going through a hard workout or starting to feel pain, I just think about the quote, 'Pain is temporary and pride is forever,' or 'Pain is temporary and quitting is forever.'" Martin said.
While running in itself is a solitary act, the cross country team provides a source of support for Martin. Together they help to represent Clear Creek and push each other to, "achieve more than you ever think you could alone." According to Coach Jordan, it is the team philosophy that you "just can't lose or be without." It was his team among other friends and family that supported Martin when he injured his knee last year.
Last year during winter break, Martin became injured during a practice run. Around that time he was trying to average 70 miles a week, pushing himself to train for the upcoming track season. On a twelve-mile course around the seventh mile, Martin began to feel a pain different from the type he usually ignores. It took just one run to take away the track season that Martin had spent all year looking forward to. It resulted in six weeks of physical therapy. This resulted in him having to spend his summer slowly working back to where he was in addition to improving his pre-injury state. During this time, what motivated Martin was seeing his other competitors work hard at track as he tried to heal his knee.
"It helped me realize that no matter how life can be and how it really is, you just have to keep moving forward no matter what. You just can't give up," Martin said.
In return to those on the team who have been his support, Martin tries to do the same. For Coach Jordan, Martin's supportive behavior "helps to make the program better" due to his lead by example work ethic.
"I've never heard him belittle a team mate. He even stands by them as they run and cheers them on. He's one of their biggest fans. That's the most gratifying thing about watching him. Someone with his level of success is still there to cheer on his teammates and not expect them to win, but expect them to compete the best that they can," Coach Jordan said.
Starting from as a young boy who admired his father's collegiate running photos, Martin is on his way to creating more running victories of his own. Running has served as a constant in Martin's life starting from practice runs with his dad as a middle school student. As stress relief and sport, running has been Martin's outlet to challenge himself to see just how much he can achieve.
"There are gonna be times when you easily want to give up and give into the pain whenever you're in a race. The most important thing is that you just gotta keep moving forward. Instead of giving up your dream because of how far you've got to go, sometimes you have to look back and see how far you came," Martin said.