Wildcat Web News 9.19.16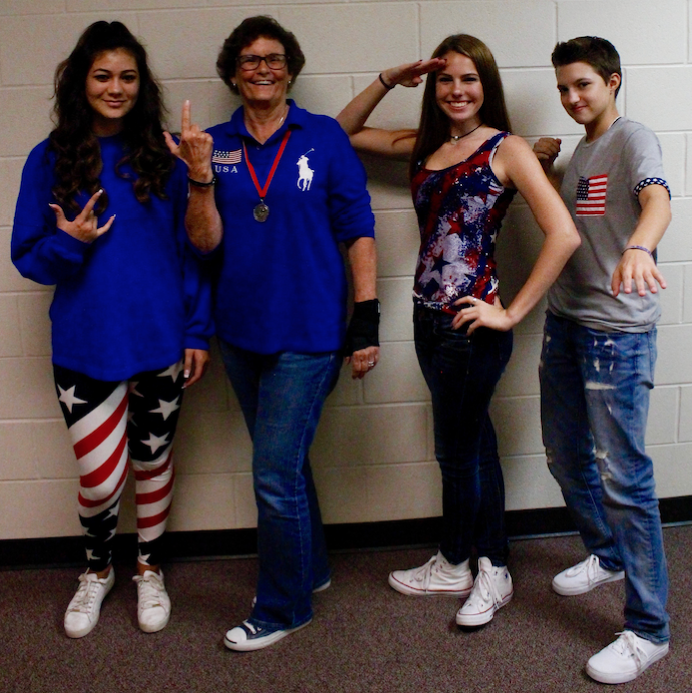 Photo by Emily Ruthven-USA day
9.19.16

Don't forget BEAT Springs Dress-up Days. Go by D136 to have your photo taken. Tomorrow is
Wynette Jameson
Girls Varsity and JV Cross Country Teams had a great showing at Clear Creek's annual Cross Country Meet this past Friday at Hometown Heroes Park.
Girls Varsity finished 3rd Place overall as a Team.
Top finishes included: Hailey Chorn in 3rd Place, Elsa King in 7th Place, Emma Pistone in 12th Place, and Amber Farrar in 17th Place out of a field of over 100 runners.
Top finishes for the Junior Varsity included, Lia Wilkison in 3rd Place, Tiffany Dimarco in 5th Place, and Camille Dang-F in 11th Place out of a field of over 150 runners.
Congratulations Lady Wildcats.
Coach Zepeda
Starbooks is meeting tomorrow in the library during every lunch!  Bring your love for books and Ms. G-L will bring the coffee.
Laura Gladney-Lemon
Spanish Honor Society is meeting Wednesday September 21 in room B107 at 2:35. All members are encouraged to assist.
Thanks,
Gloria Velázquez
Don't forget that Wednesday is a Late Arrival Day.
Creek HiLife
THE FIRST MEETING OF THE CLEAR CREEK ART CLUB WILL BE HELD IN ROOM F108 IMMEDIATELY FOLLOWING TUTORIALS, this Thursday, September 22. PLEASE PLAN TO ATTEND THIS IMPORTANT MEETING, WHERE WE WILL DISCUSS HOMECOMING ACTIVITIES, AS WELL AS PROJECTS FOR THE REST OF THE YEAR.
Brenda Henning