Wildcat Web News 11.4.16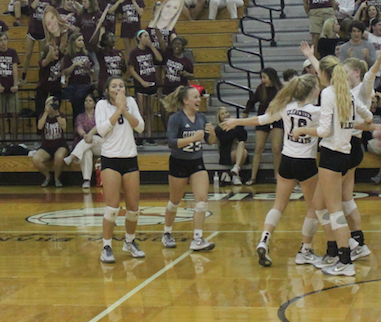 Volleyball continues WIN. Photo by Veronica Brown
11.4.16
Tryouts for the Girls Soccer Team will be held on Monday November 28th and Tuesday November 29thafter school from 2:45-4:30pm.  Any girl interested in trying out MUST talk to Coach Pittman in Room E226 before Thanksgiving Break. A completed physical form must be turned in before you are able to tryout.
Thank you,
Jessica Pittman
CCHS Club members and CCHS Organization Sponsors: AN OPPORTUNITY TO EARN SERVICE HOURS: The CCHS Counselors will be hosting the 2016 CCISD College and Career Fair on Nov. 9 at Clear Falls HS and are in need of 22 student volunteers to assist them with small duties throughout the evening. You can earn 4 service hours in one evening. Service hours will be from 4:30 pm – 8:30 pm so it is advised that you eat a light meal before arriving at the fair. Please dress appropriately in business casual. Student volunteers will be assisting with the following duties: Assist CCHS Counselors with check-in Assist college reps upon arrival at the check-in station Guide college reps to their designated areas Provide water to college reps Assist CCHS Counselors with closing the fair (break-down/packing up) Sign-up at the Counseling Center. This is limited to the first 22 students
The following Universities will be visiting the College Center during College Week, interested students can sign up in Naviance or visit the Counseling Center for more information.
11/7 – College of the Mainland, 9:00-11:00 am
11/7 – University of Alabama, 11:00 am
11/9 – St. Edwards University, 9:00 am
11/9 – Baylor University, 1:30 pm
11/10 – University of Houston, Clear Lake, 9:15 am
11/11 – University of Lafayette, Louisiana, 10:00 am
Shannon Herd
Color Guard auditions begin next week. Audition clinics are November 1, 2, 7, and 9 from 3:30-5:30 in the CCHS band hall. The actual audition is November 10 at 3:30. Wear all black dance clothes. For more information see Ms. Hyde Wargo in the band hall or ask a current guard member.

Dual Credit Students 
You must register for the Spring Semester of college very soon. College of the Mainland is holding registration at the Learning Center in League City.
Seniors Tuesday, November 1st 2:30 – 5:30 pm
Juniors Tuesday, November 8th 2:30 – 5:30 pm
Be sure to register.
Students and Staff if you would like to order a HiLife t-shirt please email [email protected]
Students and Staff are invited to participate in CCHS' mock election. Voter registration cards should be turned into the library in order to receive extra credit in your Social Studies class and voting will take place on the CCHS Library ItsLearning page between now and the end of lunches Nov 7. All votes cast are completely anonymous.
Students the Creek Boutique is now OPEN every Friday from 7:30 am-12:30 pm in B116.  Come check it out, a little bit of everything at low prices.
See you there..