Wildcat Web News 11.09.16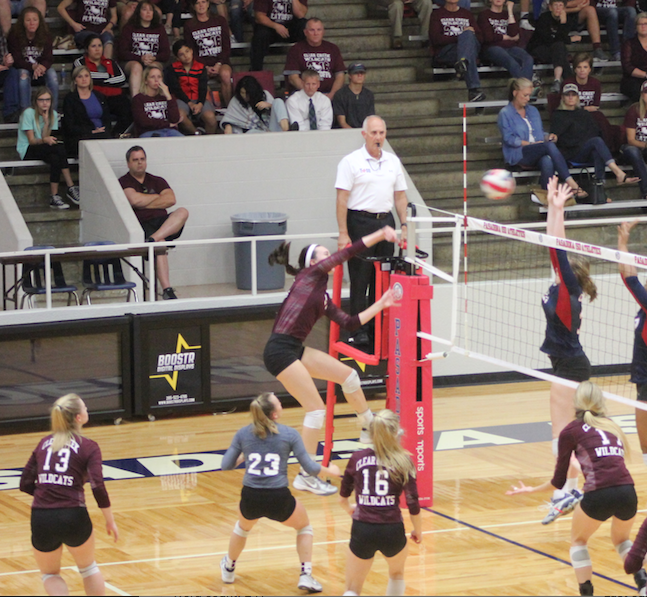 Photo by Veronica Brown/ Hilife
11.09.16
Volleyball
Amazing win for us in the Regional Semifinals over Dawson in 3!  Thank you to all who came out to support.  We now move on to the Regional Semifinals vs. Seven Lakes on Friday at 5:00 p.m. at Wheeler Fieldhouse in Fort Bend.  If we win the semifinal we will play in Regional Championship to go to the State Tournament on Saturday at 4:00 p.m. vs. the Ridge Point vs. George Ranch winner.  The address to Wheeler Fieldhouse is:  16325 Lexington Blvd, Sugar Land, TX 77479.  Please come out and support the Cats.
Thank you,
Scott Simonds
The girls basketball program won all of its games last night versus Clements and Pearland. The varsity won 49 to 11. Hannah Zajac was high scorer with 11 and Kyndal Johnson had 10 points. Alex Simmons hustled for 8 rebounds and 7 steals.
Travis Golden
The Lady Wildcat Varsity Golf Teams competed this past weekend at the Clear Springs Invitational @ Galveston Country Club. 1st Varsity won the tournament, shooting our lowest team score in 7 years. Lauren Bentley earned 1st medalist honors shooting 82, 78. Other team members include Bianca Zamora, Ana Vallejo, Caroline Frederick & Lauren Stovall.
Our 2nd Varsity golf finished 4th overall beating the top teams from Clear Springs, Clear Falls, Clear Brook and Pearland. Team members include Aubrie Sultzer,  Becca Low, Trinity Le, Michelle Pardivala & Caroline Singletary. Great job Ladies! Good Luck to the Lady Wildcat 1st Varsity as they play in the Fall Regional Preview this Weekend in Mont Belvieu.
Kayla Williamson