Volleyball moves on tonight-Show your support-get ON the bus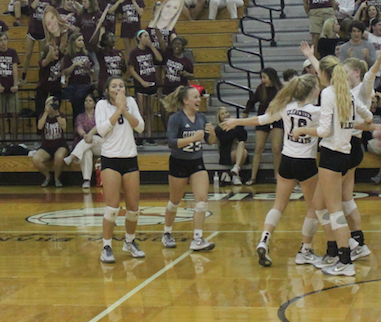 Amazing win for us in the Regional Semifinals over Dawson in 3!  Thank you to all who came out to support.  We now move on to the Regional Semifinals vs. Seven Lakes on Friday at 5:00 p.m. at Wheeler Fieldhouse in Fort Bend.  If we win the semifinal we will play in Regional Championship to go to the State Tournament on Saturday at 4:00 p.m. vs. the Ridge Point vs. George Ranch winner.  The address to Wheeler Fieldhouse is:  16325 Lexington Blvd, Sugar Land, TX 77479.  Please come out and support the Cats.
On Friday 11/11 if any students or faculty want to get a free ride to the Regional Volleyball Tournament they can get a ride with the Cheerleader's bus leaving at 3:00 from CCHS in the horseshoe in front of Butler Gym.  There is a signed permission slip that must be filled out and signed by a parent/guardian for the kids to ride the bus.  We will also offer this on Saturday if we win on Friday with the bus on Saturday leaving at 1:30.