Wildcat Web News 11.29.16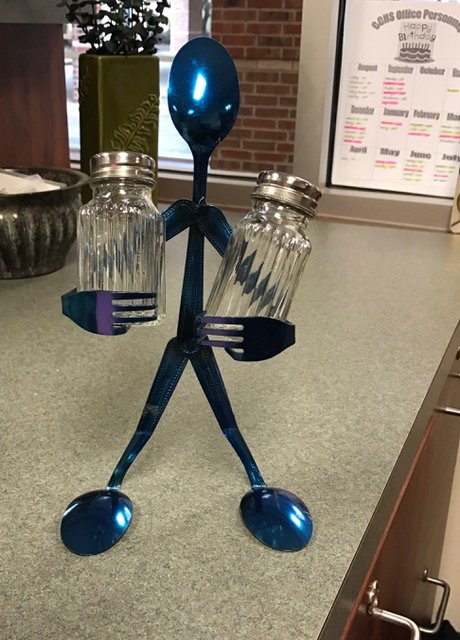 11.29.16
Help us raise money for a Bronze Wildcat to be displayed in front of our school.  The students in the metal manufacturing class are selling salt and pepper holders for $15 each that they built. Please stop by any of the POD offices and take a look at them.  A picture is above of the blue one, but they also come in variety of other colors.
D. Sheets
The Fashion Institute of Design and Merchandising (FIDM) will be visiting the College Center on Wednesday, November 30 during third period. Interested students can sign up in Naviance or visit the College Center for more information.
S. Herd
Hey, Wildcats. The PALs are doing a teddy bear drive to donate teddy bears to families in need and the local police departments. We want to donate as many teddy bears as possible! We have also challenged the other schools and PAL programs to see who can get the most donated. Between now and December 8 please bring teddy bears (both for infants and bigger kids) to any of the pods. Help get Creek to win the challenge we place.
R. Bryan
Men's Soccer will have tryouts after school on November 28, 29 and 30 on the grass field inside the track. Anyone trying out must have a physical on file. Please see Coach Cobb in F112 if you have any questions.
C. Cobb
Students Tryouts for the Girls Soccer Team will be held on Monday November 28th and Tuesday November 29th after school from 2:45-4:30pm. Any girl interested in trying out MUST talk to Coach Pittman in Room E226 before Thanksgiving Break. A completed physical form must be turned in before you are able to tryout.
J. Pittman
Students don't forget that the Creek Boutique is now OPEN every Friday from 7:30am-12:30pm in B116!  Come check it out, a wide variety of many cute things at very low prices!
See you there.
¡BUENOS DIAS!   The Sueño Latino Club will meet this FRIDAY at 6:50 am in room B-106.    The Sueño Latino Club is open to all Spanish speakers, and there will be kolaches for breakfast.
¡Habrá premios, comida, y es divertido!  Nos vemos este viernes en la mañana en el salón B-106.   ¡GRACIAS!  
Michelle Wilson