Wildcat Web News 1.31.17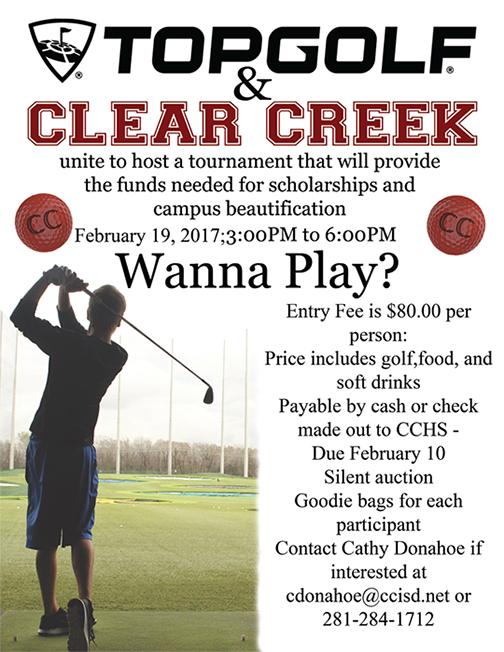 1.31.17
Announcing that the Clear Creek Education Foundation 11th Annual Fashion Show applications are now available.. The Clear Creek Education Foundation is seeking high school juniors, both male and female, that represent all that is positive about CCISD to participate as models during the 11th Annual CCEF Fashion Show on Sunday, April 2, 2017 at Mercedes Benz of Clear Lake. The show is being produced by Lenny Matuszewski, Jr., nationally known fashion show producer and will feature fashions from Dillard's – Baybrook. Applications are only available online in the "Events" section at: www.clearcreekeducationfoundation.org or directly at this link: http://www.clearcreekeducationfoundation.org/fashion-show/ They are to be submitted no later than Thursday, February 9, 2017 by midnight. For further information on the Fashion Show, contact Kaci Hanson, CCEF Executive Director at 281.284.0031 or via email at [email protected].
Students please help me in congratulating Mrs. E. Radiconi at as she is the the Career & Technical Education Teacher of the Day.  Mrs. Radicioni teaches Principles of Education & Training Teacher Education Training 1 & 2.  She attended University of Houston at Clear Lake.  The TWO most important things she would like students to know about her program are: Intro Teacher Education Training class allows you to work with Kindergarten kids 8 times a semester. Teacher Education Training class gives you the opportunity to travel off campus and work with a mentoring teacher and class 4 days a week. Transportation is provided..
The boy's soccer team has created an online store for spirit wear. The window for purchases begins today and ends on February 14th. Hurry and get your items to promote and support the boys soccer program.. Thanks for your support.. (A portion of your purchase goes to the soccer program) If you are interested in purchasing any of the merchandise please go to the link below to access the store: https://stores.inksoft.com/cc_boys_soccer
Wildcats, there is still time to purchase a Valentine advertisement from the HiLife. The deadline has been extended to Monday February 6 and the price has been reduced to as low as $5 dollars when you buy one and get one free. Valentine advertisements will be sold in the cafeteria during all lunches today. Bring your money and dare to show you care. Remember it is just like a tattoo…it will be here forever.
Good morning, Wildcats. Do you like helping people? Do you like mentoring friends and siblings? Are you looking for a place you can help people? PALs is the class for you. Come to C108 (Ms. Bryan's room) or C106 (Ms. Massey's room) for an application between classes or before/after school by February 24.
The Theatre & Choir Departments are excited to invite you to this year's Musical performance of The Pirates of Penzance by Gilbert & Sullivan. The Pirates of Penzance is one of the most beloved works by the British duo whose comedic operettas paved the way for the performance genre that would eventually come to be known as Musical Theatre. The plot follows a love story between an unwilling pirate and the daughter of a British Major General. It is filled with catchy songs, fake mustaches and farcical plot twists. After missing out on a Musical last year, it has been incredibly rewarding bringing back this opportunity for our students as we continue to adapt to the ongoing construction process. We truly have some incredible singers and performers on this campus, and the Theatre & Choir students have learned a great deal from sharing a common performance goal. The
Pirates of Penzance performs on February 3-4 at 7:00 PM. Tickets are $7 for Adults and $5 for Students & Seniors. Tickets will be available for purchase at the front desk starting Monday, January 30th. The Cast & Crew is as follows: Major-General Stanley……Zach Hoover
Pirate King……Asiel Velasco Samuel (Pirate Lieutenant)……Brandon Falknor
Frederic (Act 1)……Justin Pollio Frederic (Act 2)……Travis Falknor Sergeant of Police……Brady Raboin Ruth……
Zoie Ellis Mabel (Act 1)……
Skyla Sonnenburg
Mabel (Act 2)……Sophia Sledge Edith……Mia Carter
Kate……Victoria Blackburn Isabel……Sutton Anderson Lizabeth……Kat Velasco
Pirates
David Hieger Fatinah Al-hmoud Jordan Sapp Anya Golovko Shelby Pyle Mark Kostjuhn Mrs. Perry Johnson Mr. Jamey Majewski
Police
Yadir Velasquez Ally Decker Margherita Cardani Aislyn Gonzalez Rodney Long
Crew
Stage Manager…..Ashlyn Carter Lights…..Holly Hough
Sound Assistant…..Alex Palmer Publicity…..Micah Smith & Josiah Resendez
Props…..
Madelyn Gonzales
Fly…..
Taylor Bassett, Nevin Ellis, Nick Rodriguez & Blaze Garcia
Grips…..
Tony Decos, Frank Grizzaffi, Kiesrsten Barbaria, Ashley Levine & Hunter Junco
Costumes…..
Lillian Rose Welborn
Scenic Construction…..Technical Theatre 2-4 Students
It is the very model of a modern Wildcat Musical.
Seniors… Check Naviance for updated Scholarships, CCHS Band Booster and the CCHS PTSA are now available.
Attention AP Students
The window for students to register for AP Exams will be opening in late February. Regular AP exams will cost $93 each (AP Capstone is $141), but students identified as economically disadvantaged will receive a discounted price. Students must already be identified as eligible to receive free and reduced pricing for meals in order to receive this discount at the time of registration.
If you believe you may qualify for Free & Reduced Lunch but are not currently identified, we encourage you to apply now. Should you wait until the registration window opens, there may not be enough time for the application to be processed.
More information about qualifying for Meal Benefits at the following link. http://www.ccisd.net/departments/child_nutrition_services/meal_benefits/
KNITTERS AND STITCHERS…
BRING YOUR PROJECTS TO THE LIBRARY.
When? All lunches every Thursday.
Experienced or new learners
Student Council is raising money to help support Donate Life. This organization helps support those who have received, given, or are waiting for organ transplants. Our goal is to raise $1000.00 and we would like the student body to help us out.  You can do this by donating any loose change that you may have to your 3rd period class.  The 3rd Period class with the most money collected gets a pizza party courtesy of StuCo. Thank you all for your help and support.
Peace, Love, StuCo
Students with Valentine's day right around the corner, make time to stop by and check out the Creek boutique as they have many NEW arrivals in stock, lots of cards and gifts that you may like.  The boutique is located in room B116
Attention sophomores and juniors:
If you have a 4.5 GPA or higher, you may be eligible to join the National Honor Society. Besides high grades, membership in NHS requires participation in school organizations, volunteering in the community and demonstrating good character both in the classroom and outside of school. If you are interested in joining this prestigious organization, please see Mrs. Slazer in D222 to pick up an application.
Donate loose change to DONATE a LIFE Texas from Jan 9th through February 6th and win a pizza party. Cups are located in each classroom.