Wildcat Web News 2.7.17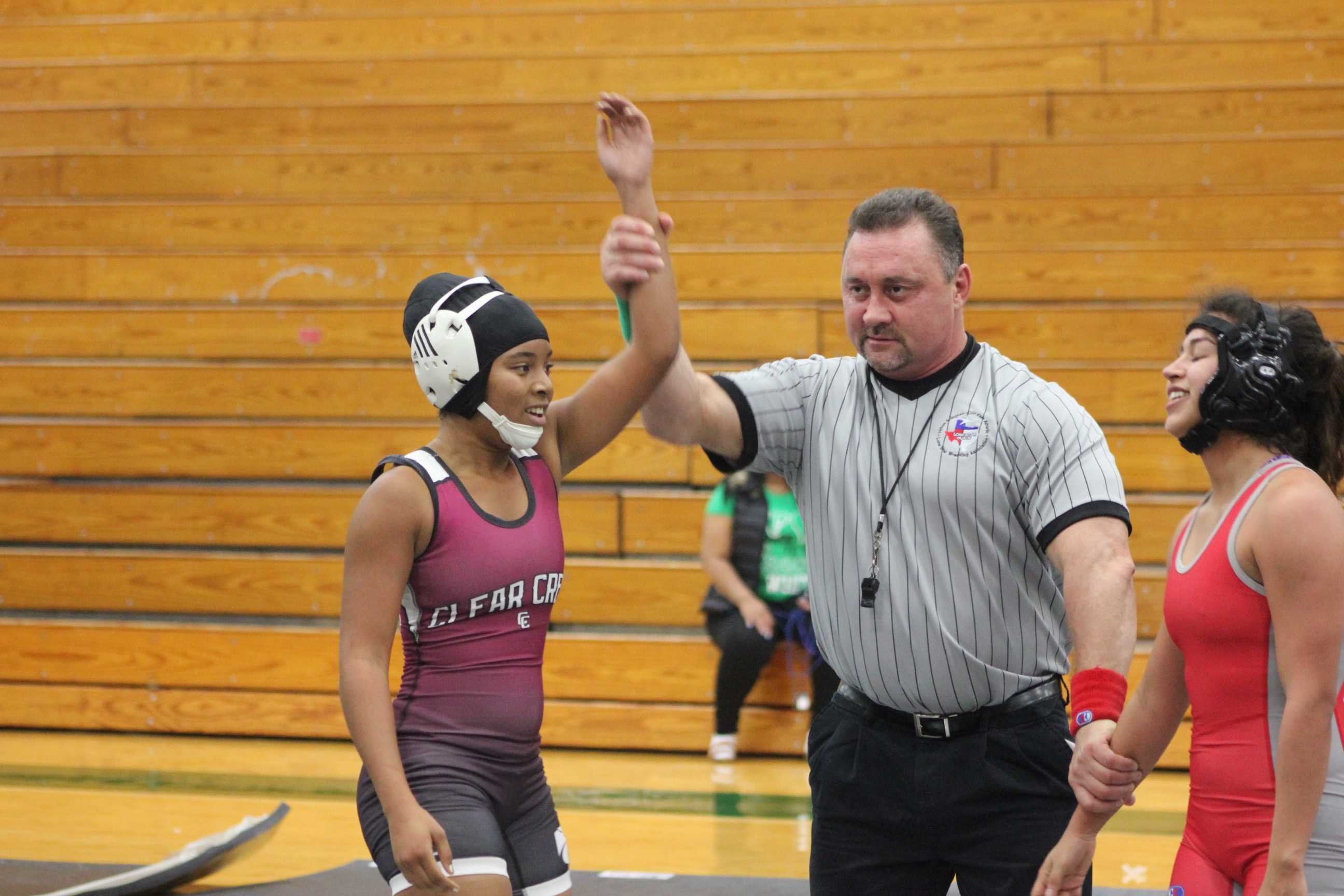 2.7.17
Freshman and Sophomores wrestlers participated in a JV District Tournament.
1st place medals went to Chase Reed, Alton Hodges, Kenny Norris, Kieran Brown and Clay Morrison.
2nd place medals went to Ralph McCag and Tanner Mouser.
All wrestlers did a outstanding job.
Shawn Williamson
The Girls Soccer team tied both games last week with a 0-0 score against Brook on Tuesday and a 1-1 tie against Alvin Friday night. Senior Molly Edelman scored the lone goal of the week and goalkeeper Miranda Castillo recorded her first shutout against Brook.  Strong Defensive play from our back line helped us thanks to Madison Fielding and Gabby Paganucci.
We travel to Friendswood tomorrow night to take on the Lady Mustangs, JV at 5pm and Varsity at 7pm. Lets Go Wildcats.
Thank you,
Jessica Pittman
Clear Creek Varsity tennis team performed very well in the San Antonio Tour Event this past weekend. Some great finishes by the following Wildcat players:
Ava Manuel finished 3rd in girls singles
Alejandra Lopez and Gabriel Lopez finished third in Mixed doubles
Griffin Baillargeon finished fourth in boys singles
Toni Tacorda and Britney Fang finished fourth in girls doubles
Sydney Albro finished sixth in girls singles
Derick Geise
This past weekend the Clear Creek swim team participated in the Regional swim meet. Congratulations to the following athletes for placing and making finals.
Caitlyn Lavan for placing 13th in the 200 Individual Medley
Peyton Roemer for placing 9th in the 200 Free style and 7th in the 500 freestyle
Matthew Copes for placing 15th in the 500 Freestyle
Libby Goode for placing 8th in the 100 Freestyle and 5th in the 100 Back stroke
A special congratulations to Libby Goode for breaking the Clear Creek High School 100 back stroke record with a time of 59.29 seconds.
The girls medley relay team of Caitlyn Lavan, Autumn Brumfield, Julia Meyer and Jordan Castillo placed 12th
The boys medley relay team of Scott Tippelt, Preston Porter, Dalton Way, Timmy Holt placed 10th
The girls 200 Freestyle relay team of Caitlyn Lavan, Autumn Brumfield, Jordan Castillo and Julia Meyter placed 11th
The boys 200 Freestyle relay team of Kaeden Trout, Jacob Bulseco, Timmy Holt and Dalton Way placed 10th
The girls 400 Freestyle relay team of Caitlyn Lavan, Autumn Brumfield, Julia Meyer and Libby Goode placed 8th
The boys 400 Freestyle relay team of Matthew Copes, Scott Tippelt, Jacob Bulseco and Dalton Way placed 8th
Over all the girls team placed 10th in the region and the boys placed 13th in the region
Ty Halford
The French Honor Society is celebrating diversity.  When you have time go and visit our word wall in the library where you'll find postcards mailed from around the world.
Try outs for the girls water polo team will begin today after school at 2:45. All athletes trying out must have a current CCISD physical on file with the trainer. For more information please see Coach Halford in N-130.
Try outs for the boys water polo team will begin Wednesday after school at 2:45.
Announcing that the Clear Creek Education Foundation 11th Annual Fashion Show applications are now available.. The Clear Creek Education Foundation is seeking high school juniors, both male and female, that represent all that is positive about CCISD to participate as models during the 11th Annual CCEF Fashion Show on Sunday, April 2, 2017 at Mercedes Benz of Clear Lake. The show is being produced by Lenny Matuszewski, Jr., nationally known fashion show producer and will feature fashions from Dillard's – Baybrook. Applications are only available online in the "Events" section at: www.clearcreekeducationfoundation.org or directly at this link: http://www.clearcreekeducationfoundation.org/fashion-show/ They are to be submitted no later than Thursday, February 9, 2017 by midnight. For further information on the Fashion Show, contact Kaci Hanson, CCEF Executive Director at 281.284.0031 or via email at [email protected].
The boy's soccer team has created an online store for spirit wear. The window for purchases begins today and ends on February 14. Hurry and get your items to promote and support the boys soccer program.. Thanks for your support.. (A portion of your purchase goes to the soccer program) If you are interested in purchasing any of the merchandise please go to the link below to access the store: https://stores.inksoft.com/cc_boys_soccer
Check Naviance for updated Scholarships, CCHS Band Booster and the CCHS PTSA are now available.
ATTENTION: SENIOR WOMEN… PLEASE JOIN THE CLEAR LAKE AREA PANHELLENIC
ASSOCIATION FOR THE 2017 INFORMATIONAL MEETING ON SORORITY RECRUITMENT
Location: Bay Oaks Country Club 14545 Bay Oaks Blvd, Houston, TX 77059
When: Sunday, February 19, 2017 2:00 PM – 4:00 PM 
If you have any questions regarding this event or the recruitment process, please contact: Mary Payne, Recruitment Chairman-(281) 797-1138/ [email protected], and
Tish Wright, Recruitment
CoChairman(832)-721-5521 [email protected] Clear Lake Panhellenic
Website: www.clearlakepanhel.org Neither this organization nor this event is sponsored, endorsed or otherwise affiliated with Clear Creek ISD.
Attention AP Students
The window for students to register for AP Exams will be opening in late February. Regular AP exams will cost $93 each (AP Capstone is $141), but students identified as economically disadvantaged will receive a discounted price. Students must already be identified as eligible to receive free and reduced pricing for meals in order to receive this discount at the time of registration.
If you believe you may qualify for Free & Reduced Lunch but are not currently identified, we encourage you to apply now. Should you wait until the registration window opens, there may not be enough time for the application to be processed.
More information about qualifying for Meal Benefits at the following link. http://www.ccisd.net/departments/child_nutrition_services/meal_benefits/
KNITTERS AND STITCHERS…
BRING YOUR PROJECTS TO THE LIBRARY.
When? All lunches every Thursday.
Experienced or new learners
Student Council is raising money to help support Donate Life. This organization helps support those who have received, given, or are waiting for organ transplants. Our goal is to raise $1000.00 and we would like the student body to help us out.  You can do this by donating any loose change that you may have to your 3rd period class.  The 3rd Period class with the most money collected gets a pizza party courtesy of StuCo. Thank you all for your help and support.
Peace, Love, StuCo
Students with Valentine's day right around the corner, make time to stop by and check out the Creek boutique as they have many NEW arrivals in stock, lots of cards and gifts that you may like.  The boutique is located in room B116
Attention sophomores and juniors:
If you have a 4.5 GPA or higher, you may be eligible to join the National Honor Society. Besides high grades, membership in NHS requires participation in school organizations, volunteering in the community and demonstrating good character both in the classroom and outside of school. If you are interested in joining this prestigious organization, please see Mrs. Slazer in D222 to pick up an application.
Donate loose change to DONATE a LIFE Texas from Jan 9th through February 6th and win a pizza party. Cups are located in each classroom.