Wildcat Web News 2.22.17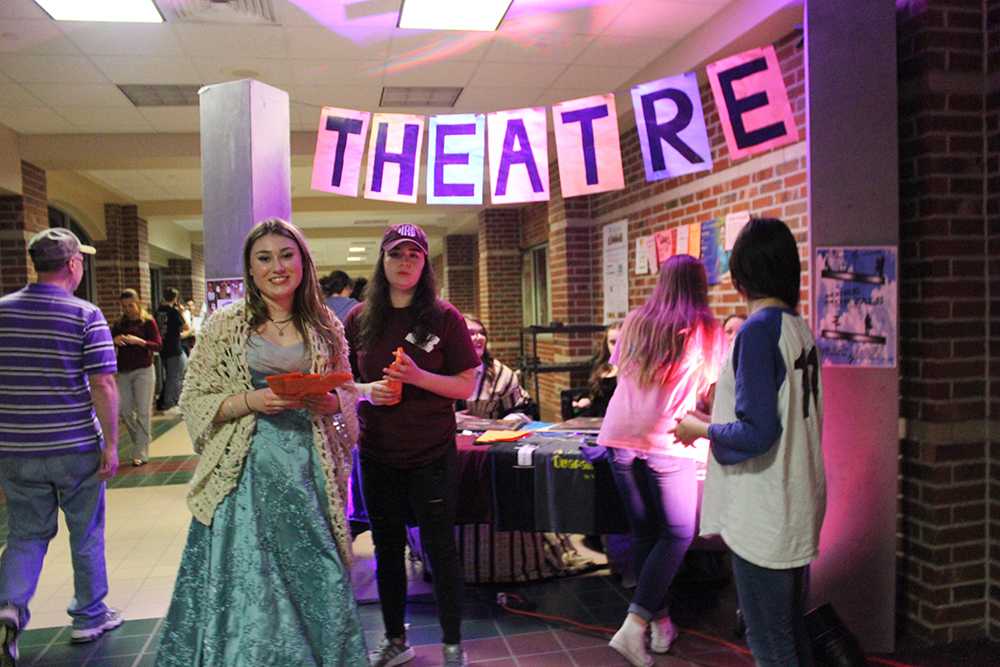 Theatre Dept shines at course fair
Photo by Dakota Wingard
If you still have your Course Selection Sheet, please turn it in to any of the Pod Offices today. Make a note on the sheet if you were unable to enter your courses in Skyward. Remember that you will be receiving a list of the courses you selected in early April and will be able to make changes to them through May 5.
Elizabeth Updegraff
Lead Counselor
National Technical Honor Society will hold a meeting on Monday, February 27 in the library at 2:45. Field trip forms are due that day, please stop by the Career Center if you don't have a permission slip to attend.
PACK THE GYM. The Girls Basketball Team is in the Regional Tournament. We are offering a free ride on a bus to the game. The bus will depart from in front of Carlisle Gym on Friday February 24 at 5:30 pm. All staff and students are welcomed on the bus.  Students must have a permission slip turned in to the D-pod by Friday at 8 am. Permission slips are available in the D-pod as well. Space is limited to seating availability. Priority will be given to those with permission slips turned in first. When the bus is legally full to capacity no more will be allowed, No exceptions. See Coach Golden in room D-116 if you have any questions. Admission to the game is 8 dollars per ticket, no passes accepted, 3 and under are free.
Our girls basketball program would like to thank the Administrators and all of the fans that came out to support us last night. Our crowd showed that Clear Creek wins with class. The Wildcats beat Clear Falls 45-41 after being down the majority of the game. Hannah Zajac lead the charge with 20 points, Caitlyn Burroway added 13 rebounds and 10 points, and Keondra White added 8 points and 6 deflections. If you would like to order a playoff t-shirt please email Coach Odom with your size, they will be $15. The Wildcats will play in the Regional Tournament on Friday night at 7:30 P.M. at the Merrell Center in Katy, against the winner of Cy Ranch / Katy. Please come out and support the team.
Thank you,
Coach Odom
Wednesday, February 22, is our second Project Graduation Night at Fuzzy's Taco Shop. Fuzzy's will donate 10 cents to Project Graduation for every dollar spent between 7 and 9 that evening on dine-in orders when you tell the cashier that you are there to support Clear Creek Project Graduation: Last time, 76 participants helped raise $133 – let's beat both numbers this time at Fuzzy's Taco Shop on Marina Bay Drive from 7 to 9 PM on Wednesday, February 22.
Please go vote for Clear Creek's – Parker Osburn
http://vype.com/houston/2017/02/13/who-is-vypes-public-school-baseball-player-of-the-year/
Come one come all to the grand opening of the CCC, a club where anyone and everyone fits in and stands out. We will be holding our first meeting bright and early on Wednesday February 22 at 6:45 in the morning. Come down to the library if you want a place to build friendships, talk creatively, and involve yourself within the Creek Community.
National Science Honor Society application forms are available for pick up in room D219. All completed applications are due by Friday March 10.
CCHS Construction Trades classes and our maintenance department have been hard at work beautifying our courtyard. Recently we have been enjoying the courtyard and our great Texas weather by eating lunch during the week under the magnificent oak trees. We can continue enjoying the new eating areas only if we take care of it. Please take responsibility for your trash. If friends decide it's someone else's responsibility, remind them it's his/her responsibility. If you see a piece of trash without an owner, pick it up and deliver it to one of the many garbage cans. We have something that most high schools do not, and that's a beautiful courtyard with grand old oak trees, and student groups that have dedicated their time to make a nice area to enjoy each other's company at lunch time. In order to continue enjoying the opportunity we have, we must take care of the area and keep it clean.   be mindful of this and please help us keep our new outside area beautiful that way everyone can enjoy it.
Seniors… Check Naviance for updated Scholarships, CCHS Band Booster and the CCHS PTSA are now available.
Attention AP Students
The window to register for AP Exams will be opening in late February. Regular AP exams will cost $93 each (AP Capstone is $141), but identified as economically disadvantaged will receive a discounted price.  must already be identified as eligible to receive free and reduced pricing for meals in order to receive this discount at the time of registration.
If you believe you may qualify for Free & Reduced Lunch but are not currently identified, we encourage you to apply now. Should you wait until the registration window opens, there may not be enough time for the application to be processed.
More information about qualifying for Meal Benefits at the following link. http://www.ccisd.net/departments/child_nutrition_services/meal_benefits/
If you have a 4.5 GPA or higher, you may be eligible to join the National Honor Society. Besides high grades, membership in NHS requires participation in school organizations, volunteering in the community and demonstrating good character both in the classroom and outside of school. If you are interested in joining this prestigious organization, please see Mrs. Slazer in D222 to pick up an application.