Wildcat Web News 2.27.17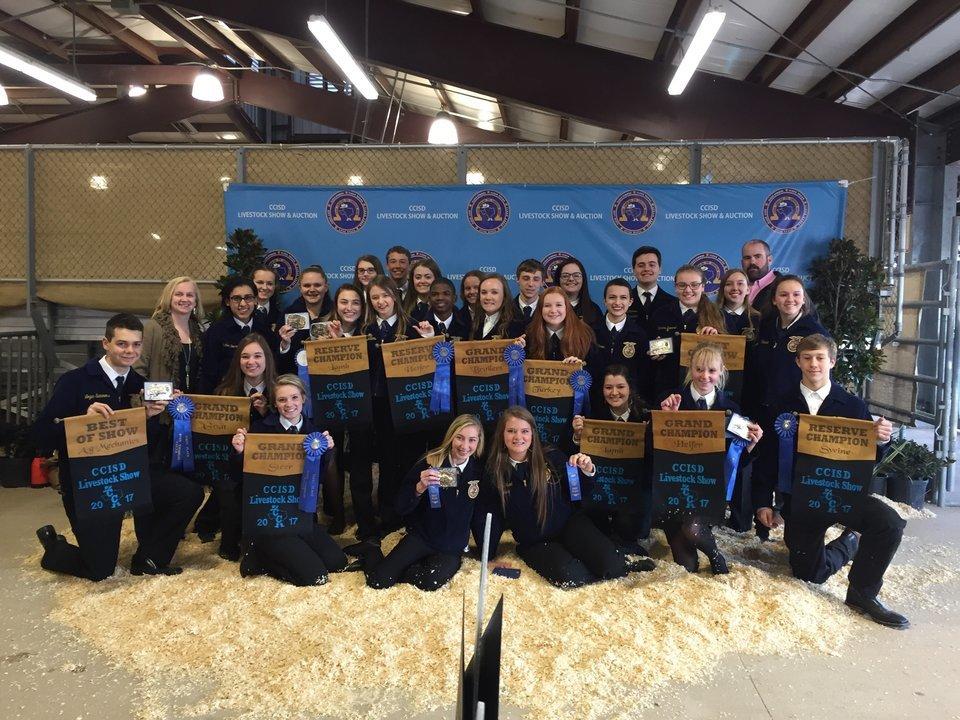 Go FFA we are proud of all you do. Photo from Twitter.
2.27.17
Our Lady Wildcat basketball team finished an amazing run in the playoffs losing to Cy Ranch.  The talented Cy Ranch team beat Clear Springs in the Regional Final to go to the State tournament.
Our seniors graduating are 
Caitlyn Burroway
Hannah Froeschl
Sidney Plunkett
Carla Rivas
JeMarra Rivers
Lacee Savage
Alex Simmons
Keondra White
Hannah Zajac
They will be missed!
Our coaching staff is extremely proud of all of our team and the effort they gave this season.  Thank you to the Administration, Teachers, Creek Cheer, and all of our fans that came out to support us!
Kristi Odom
The window for students to register for AP Exams will be opening in late February. Regular AP exams will cost $93 each (AP Capstone is $141), but students identified as economically disadvantaged will receive a discounted price. Students must be identified as eligible to receive free and reduced pricing for meals in order to receive this discount.
Please encourage any students that may qualify for Free & Reduced Lunch, but are not currently identified to apply now. Should they wait until the registration window opens, there may not be enough time for the application to be processed.
Students and their families may obtain information about qualifying for Meal Benefits at the following link.
http://www.ccisd.net/departments/child_nutrition_services/meal_benefits/ 
Elizabeth Updegraff
Congratulations to Clear Creek FFA members who had success at San Antonio Livestock Show:
Sidney Velasquez had 8th place ARB heifer
Jordan Adams had 4th place Maine Anjou heifer
Nicole Speed had 1st place Red Angus heifer
Madelyn Lawrence had Reserve Champion Brangus steer.
Good luck to our exhibitors who will be showing in Houston in 2 weeks!
Natalie Terry, Ag Science Teacher
Please come out and support the water polo teams in their first district game on Tuesday Feb 28 at the Creek pool.
The girls play at  5pm
The boys at 6 pm.
Anne Woolweaver
The winter guard competed this past Saturday earning a 2nd place finish!!! With this 2nd place finish, they received a recommendation to be promoted into the next competitive class. Congratulations to the CCHS Winterguard.
Aaron Daniel
The Varsity Girls Track Team competed at the Clear Falls Relays on Friday taking some great finishes.
Top finishers of the Track Meet included Skiye Sparks taking 1st Place in the Shot Put. Other events that scored points for their team were Hailey Chorn in the 2-Mile Run, Breanna Clark in the 400 Meter Run, and the 4×400 Meter Relay Team of Breanna Clark, Kristina Paul, Aaliyah Thomas, and Kaylyn Landry.
Congratulations to your Lady Wildcats!!!
Coach Zepeda
German students participated at the Texas State German Contest in San Marcos. Over a 1000
students from 70 high schools competed in different language and culture contests. 10 students advanced to the state contest.
Jordan Weeks: 4th place for research paper on German immigration in Texas. He also received a 200 $ scholarship for his essay.
Elida Met-Hoxha: 5th place for poetry
Morgan Penrod: 5th place for photo essay
Grayson Gary: 10th place for photography
Joshua Oh, Chloe Crepinsek, Kaeli Phillips, Cory Helton,Victoria Eaton,and Michelle Bravo : 2nd place in the Polka band competition.
Thank you.
Kathrin Correll