Wildcat Web News 3.07.17
Playoff action by Sierra Dickey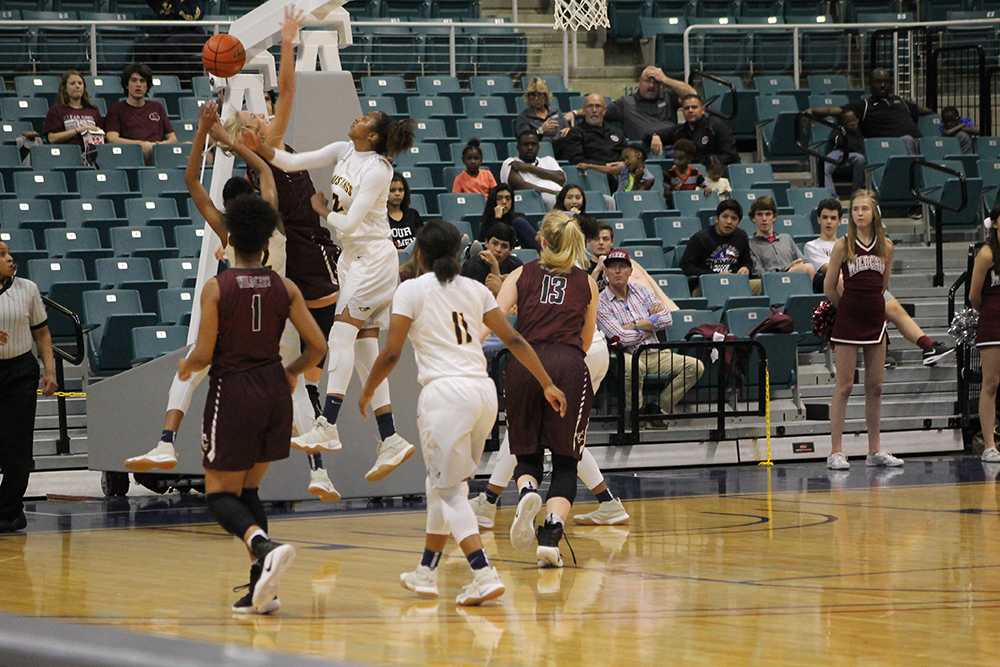 3.6.17
Cavaliers,
The team received 1st Runner up in their division and received 1st in their Pom and Kick Routines.
The officers received 2nd runner up for the entire contest and placed 1st for Officer Prop and 3rd for Officer Jazz.
The team also received the Most Admired Team Award and an acknowledgement for the Best Showmanship.
This was a great way to end the season. The girls were so excited and continue to prove what being a Wildcat truly means!
Marka Wood, M.Ed.
This past Friday the Varsity Boys Track Team competed at the Santa Fe Invitational Track Meet.  The Wildcats did an outstanding job finishing second overall in a field of 14 boys teams.
Medaling for the Wildcats were Donovan Johnson, Max Cornor, and Kingston Griffin finishing 1st, 2nd, and 3rd in the 110 Hurdles respectively.  Donovan Johnson and Max Cornor also finished 2nd and 3rd in the 300 hurdles.
Matt Herdrich finished 3rd in the Pole Vault.  Jackson Hyams and Luis Gonzalez finished 1st and 2nd in the discus throw.
The relay team of Olando Harris, Draeton Fitzpatrick, Ronnail Lundy, and Nate Jackson finished 3rd in both the 4×100 and 4×200 relays.
Great Job Wildcats.
JV Girls Track Team competed at Dickinson yesterday and had some great finishes.
Taking home the gold for first place finishes included Ebuka Louis in the 100 Meter Dash, Tyreema Holland in the 400 Meter Run, and Deionna Holmes in the Shot Put and Discuss. Your second place finishes included Faith Townsend in the 100 Meter Hurdles, Emile Forsen in the 300 Meter Hurdles, Ebuka Louis in the 200 Meter Dash, Melissa Lemon in the Triple Jump, and the 4×400 Meter Relay Team of Inay Dilworth, Michaela Kinsky, Madison Reeder, and Tyreema Holland. Your third place finishers included Lia Wilkison in the 2-Mile, Anna Reeves in the Discus, Faith Townsend in the High Jump, Tyreema Holland in the Long Jump, Eche Louis in the 200 Meter Dash, the 4×100 Meter Relay Team of Michaela Kinsky, Inay Dilworth, Melissa Lemon, and Tyreema Holland, and the 4×200 Meter Relay Team of Michaela Kinsky, Inay Dilworth, Melissa Lemon, and Georgia Smith.
Congratulations to the Lady Wildcats.
Coach Zepeda
Congratulations to the JV and Varsity Softball teams for their wins over Clear Springs Friday night.
Andrea Cash
All students who signed up to join Academic Decathlon (Acadec) and enrolled in Humanities for next school year will have an informational meeting in the auxiliary cafeteria Tuesday March 21stfrom 3:15-4:00. Please bring a copy of your transcript with you.
Brian Webb