Blue Bell returns to stores after five month hiatus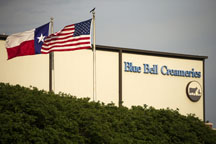 Blue Bell made its official comeback on August 31, when the first shipment of ice cream was delivered in Texas following troublesome months after a listeria outbreak. Listeria is a virus that lives in cool, wet environments and though it is typically harmless to healthy people, it poses a threat to pregnant women, newborns, older adults and individuals with weak immune systems.
Blue Bell had voluntarily recalled its ice cream products in April after the U.S. Centers for Disease Control and Prevention linked the company's products to an outbreak of listeria that killed three in Kansas and left several others ill throughout Kansas and Texas.
          The recall had a devastating effect on the 108-year-old company, which was also the third-biggest U.S. ice cream producer. The company was forced to lay off 37 percent of its 3,900 workers in May and warned shareholders that it may have to close.
"When production resumes at the Sylacauga plant, it will be on a limited basis as the company seeks to confirm that new procedures, facility enhancements and employee training have been effective," the company stated in a press release. "Upon completion of this trial period, Blue Bell will begin building inventory to return to the market."
Blue Bell announced changes in procedures and employee training, including "increased focus on sanitation and cleaning" and the application of "an independent microbiology expert for ongoing evaluation of our procedures and facilities." The company will also implement a procedure where ice creams will be tested and held until results are received before being sent to market. Therefore, the facility will be much more sterile and procedures will be properly executed to eliminate the possibility of any more consumers receiving diseases from the product.
"Over the past several months we've been working to make our facilities even better, and to ensure everything is safe, wholesome, and the highest quality for you to enjoy… we're back doing what we love: That's making ice cream," said Ricky Dickson.
An HEB grocery store in Brenham, Texas received the first shipment, once Blue Bell started hitting shelves. Blue Bell ice cream is now initially sold in markets in Brenham, Houston and Austin, as well as in Birmingham and Montgomery, Alabama, as those are the Blue Bell Creameries locations where the ice cream is made and processed.
No other information has been released about when customers in other regions will be able to buy the ice cream because the product release will be "based on product availability and when [the company] can properly service the customers in an area," said Blue Bell. Planned future markets include Oklahoma, Arkansas, Florida, Georgia and others.
When it came out, it was revealed that Blue Bell will only sell four flavors: Homemade Vanilla, Dutch Chocolate, Cookies and Cream and the popular The Great Divide. The other flavors are planned to gradually start to be released at a later time.