Men's varsity basketball team has successful season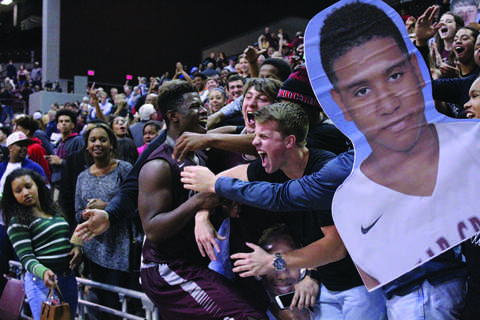 Jasmine Garza, Editor-in-Chief
April 8, 2015
Starting their season in November, the Creek men's basketball team, led by second year head coach Wes Bryan, knew what they were getting themselves into. A long journey full of practices, pain and triumph.
After the opening game for the 2014-2015 season against Manvel, there was no doubt the men's basketball team would go far. With an overall record of 33 wins and four loses and a bi-district championship with Lake with a record of 13 wins and one loss, their first goal was met.
"We discussed winning district as a key for post season success," Coach Wes Bryan said.
Since 1969 the men's varsity team has fallen short of the regional playoffs  until this year, showing a great triumph.
Although the Wildcats fell short in a double overtime regional playoff game against long time rival Clear Lake, the amount of growth the players experienced as a person, teammate and Wildcat proved they made the school proud.
"Through all of the adversity as a team we faced, we did not seperate from each other but became family for life…that is why this team is so special," Senior point guard, Karlin Humphrey said.
There is no question what the goal for next year is and whether or not the team will be able to  accomplish that goal for the upcoming school year.
"We have some good players returning. Three players that received all district nominations.We have a good nucleus of kids from a good JV team. We will try and compete for a district title (hopefully outright this time) but that is and should be the goal every year," Bryan said,
"Playoff success is next but we talk everyday about living in the present and right now my real goal is just to have my returning players get better everyday individually and then when we come back in the fall it goes from "me" time to "us" time," Bryan said.
The hard work and determination is truly noted by every supporter in the bleachers. With gaping mouths as the ball enters the basket at the sound of the buzzer, to the amount of repect given to the other teams, the amount accomplished during the season made dozens of students proud to be a Wildcat.
"The atmosphere of the basketball games was great. It was amazing to see all the students and staff coming to the games and showing their support for the school," senior Malik VanBuren said.
What the team accomplished was a reminder to all, where hard work and a school united could get you.
"I truly believe that we have outworked some people," Coach Bryan said. "It is a credit to our kids and my coaching staff for always being available. We have worked hard and we will continue to work hard."