Wildcat Web News 10.17.17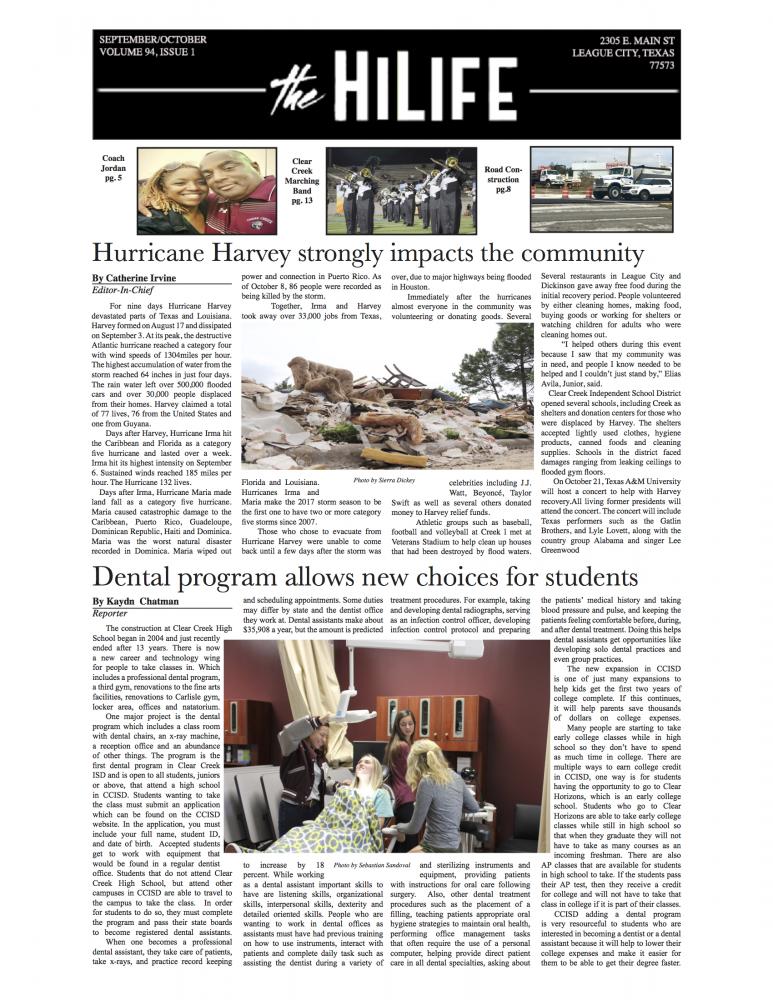 10.17.17
The HiLife first edition for 2017-18 is out now. Grab a copy in any of the pods, the library or cafeteria or come by D136. Homecoming Court and so much more is there for your viewing pleasure. Be sure to thank our advertisers. We could not do it without them.
Papa John's Marina Bay Drive
Ghuneim Law Firm 
PSA Texting & Driving 
Vintage Revival
Iron Mike's
Angelo's Pizza
PSA Flu Shot
Sutherland's Lumber
Clear Creek Baseball
Mobil Steel
Stream Energy
Pomodoro's
Esteban's
Sloppy Nick's
Childrens Legacy Learning
Wynette Jameson
Girls basketball tryouts will be Wednesday & Thursday.  Freshmen will tryout from 6:00-7:00 A.M.  in Butler gym and sophomores, juniors, and seniors will tryout from 2:40-4:30 P.M. in Butler gym.  Athletes must have a physical to participate in tryouts.  Please come meet Coach Odom in H 115 or Coach Golden in D 116 if you are interested in trying out.
 Kristi Odom
Free and Reduced status has changed to full pay if you have not re applied online you will need to bring cash for breakfast and lunch until you do.  The deadline was extended until yesterday because of Harvey. We had a lot of students at breakfast that have not done so.  We told them about lunch.
Thanks,
Belinda Ramirez
The PALs are so excited that through selling the t-shirts in memory of Coach Jordan, we raised $1,582.71 for his memorial scholarship fund that will go to a deserving student!  To celebrate this, if you ordered a shirt, please wear it on Friday in his memory.  We can't wait to see everyone in their shirts!
Thanks!
Becki Bryan