Wildcat Web News 2.19.18
Creek HiLife is celebrating Scholastic Journalism week this week. We are spotlighting a few journeys that we have taken this year. Stay tuned for much more.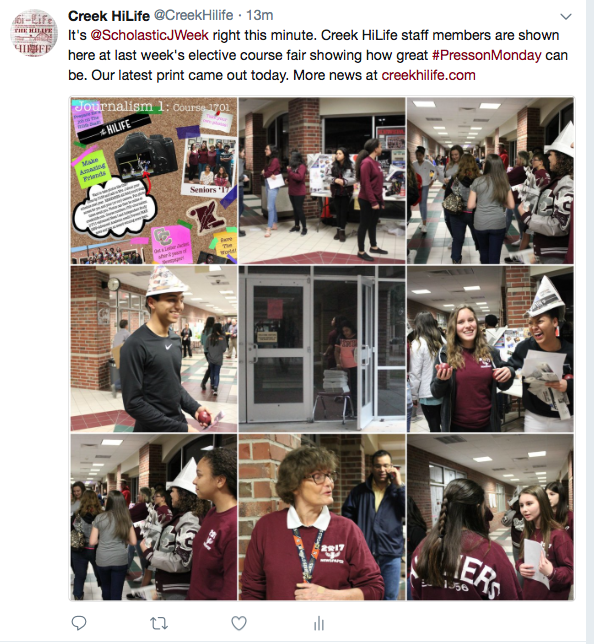 Photos by Danielle Dunavant
2.19.18
This is a reminder for all 9th, 10th and 11th grade students that course selection in Skyward closes tonight at 11:59pm.  If you have not done so all ready, you need to enter your (seven) 7 credits and alternates for next school year into your student Skyward access.  If you are having difficulty or do not have computer access, please stop by the Counselor Corner during your lunch and a Counselor will gladly enter your courses for you.  Course cards are then due to your 3rd period teacher tomorrow.  Make sure you and a parent have signed the bottom portion of your card before you turn it in.  CTE applications are coming to a close.  The sooner you complete your CTE application, the better.  Juniors, get your school service and release time applications in this week.
Current 10th and 11th grade students who are interested in Dual Credit, Mr. Alexander from College of the Mainland will be on campus this Wednesday, February 21 for advising sessions.  Stop by the College & Career Center anytime during the school day for Mr. Alexander to go over the Dual Credit process.  By now, you should have started your application to COM through the Apply Texas website and registered for your TSI exam in Naviance. If not, you are behind.  Come and see you Counselor during your lunch if you have any questions.
Counseling Center
Clear Creek Varsity tennis competed in the Deer Park Invitational last Friday.  Top performances were the following:
Boys doubles team of Michael Raji and Carter Crookston finished 1st place and remained undefeated as a team this Spring.
A Girls singles: Alejandra Lopez took home 2nd place overall.
B Boys Doubles: Griffin Baillargeon and Brice Farine took 1st place overall.
Derick Geise
Are you taking the March SAT? Creek's SAT Prep Course is this Saturday, and the practice SAT test is next Saturday. The prep course is $75 and the practice test is $15. Sign up for either or both in C200 with your payment.
Ken Fontenot
On Thursday February 15 the boys Sub varsity Track Team hosted its first meet of the season.
The freshmen team won the meet with a total of 108 points.  Medaling for the freshmen were:
Jeremiah Therence (2nd in Long Jump),  Dillon Garcia ( 3rd in Long Jump),  Cole Carlson (2nd in both the 110 and 300 Hurdles),  Josh McGee (2nd in both Shot and Discus),  Rushil Patel (2nd in the 400),  The relay team of Irby, Robinson, Garcia, and Tuckson got 1st in the 4×200 and 2nd in the 4×100 Relay.
The JV team finished second overall with a total of 122 points.  Medaling for the JV were:
Andrew Dry (1st in long jump and 2nd in High Jump),  William Phelps (1st in Pole Vault),  Gavin Gragg (3rd in the 110 Hurdles),  King Ketchum (1st in the 100m Dash),  Josh Ellsoos (1st in 400m run),  JP Gonzalez (2nd in 400m Run),  Jacob Cox (1st in the 2 mile run).  The relay team of Dolor, Saldana, Gayton, and Armstrong finished 2nd in the 4×200.  The relay team of Armstrong, McFarland, Ellsoos, and Gonzalez finished 3rd in the 4×400.
Great Job Wildcats.
Kevin McNamara