Wildcat Web News 10.22.15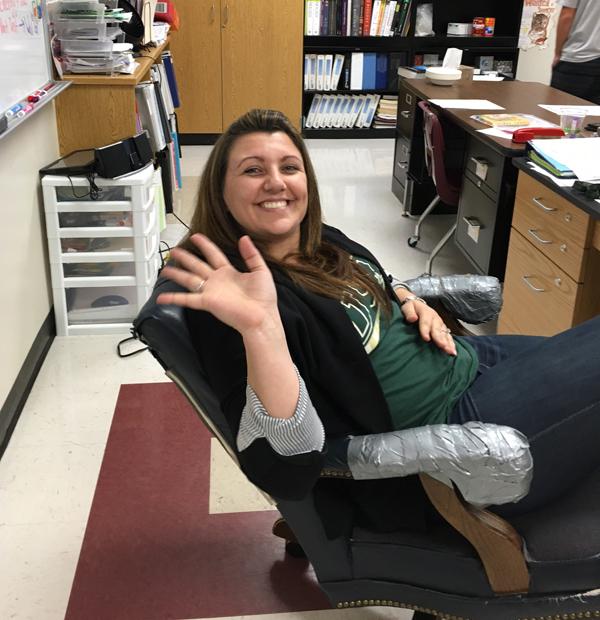 Mrs. Brownson is ALWAYS full of smiles.
10.22.15
The PALs would like to take a minute and honor our first Teacher of the Month, Mrs. Brownson.  Mrs. Brownson, one of our Pre-AP Biology teachers and AP Environmental Science teacher, graduated from CCHS then went on to get her bachelors at University of South Florida, her masters in science at Stephen F. Austin State University and her masters in education at Lamar University.  If she weren't a teacher, she would be a Wetland Delineator/Soils Specialist.  Her favorite thing about CCHS is how "Uniquely Creek" it is.  She loves how everyone has a home here and everyone is welcome.  If you see Mrs. Brownson in the hallways, give her a high five!
Thanks!
Becki Bryan
Congratulations to HiLife editor Issac Villareal. His story about the county clerk who refuses to issue marriage licenses to same sex couples made the Best of SNO edition this week. Out of hundreds of stories around the country Issac's was chosen. Congratulation Issac.
Wynette Jameson
Seniors, if you didn't take your graduation photos over the summer, you will have the opportunity to take your yearbook photo on October 30th in the library. This will be your last opportunity to take a picture for the yearbook! You MUST see Mrs. Saucier in E100 to sign up for an appointment time.
Mrs. Saucier
The poetry club is having its first meeting is at 3:15 on Tuesday October27 in room D120.
 Tarah Pekich
The National Technical Honor Society will have meeting after school on Monday, October 26 in the Library. If you cannot make the meeting, please visit with Mrs. Herd.
AND
Texas Tech will be visiting the College Center at 9:00 on Tuesday, October 27. All interested students can sign up in Naviance or visit the College Center for more information.
Thanks,
Shannon Herd
Reminder to any FFA member with an animal in the barn that we have a mandatory meeting tonight at 6:30 in the cafeteria.
Any FFA member who has not picked up their t-shirts needs to come see Mrs. Terry.
Natalie Voges Terry, Ag Science Teacher
PRE-SALE Football Tickets sold in cafeteria today and tomorrow for game against CLEAR SPRINGS HIGH SCHOOL
$6.00 for Adults
$4.00 for Students
$8.00 at Gate
Thanks
Melissa Barrios, Bookkeeper