Support Scholarships and Campus Beautification while having fun at Top Golf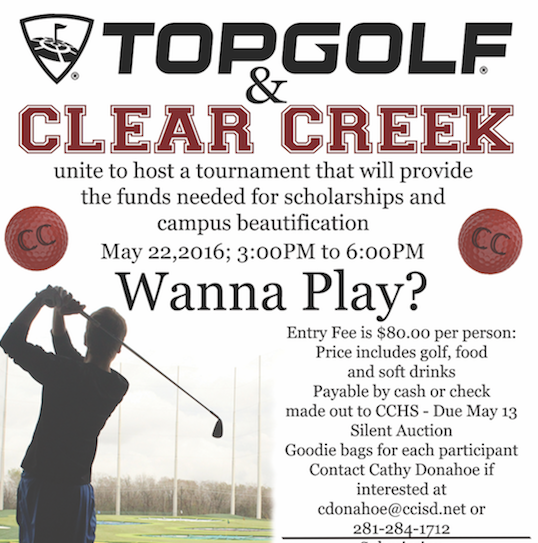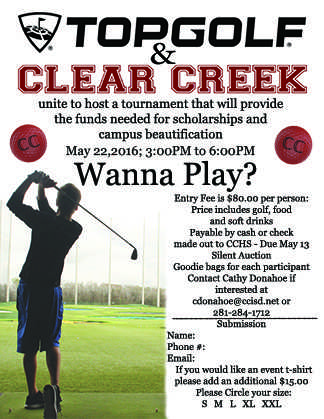 Support Wildcat Pride
Golfers and fund seekers alike plan to come out to Top Golf in Webster to participate in the Clear Creek High School scholarship and campus beautification golf tournament. The fun begins at 3PM on Sunday, May 22, 2016.
The tournament fee is $80 per adult player which includes the golf competition, food and soft drinks. Golfers will all be awarded a goodie bag and a silent auction will be held during the event. T-shirts for the event are available for an additional $15. All entries and sponsorships must be turned in by May 13.
"Top Golf is new and it is so popular. Principal Jamey Majewski and I had been trying to come up with different ways to raise money," his Administrative Assistant Cathy Donahoe said. "We talked about a dance, but none of the administrators were too happy about that. Golf is something that I have experience with because my children played, and so I said let's do Top Golf, because it's so popular, Donahoe said.
"The Top Golf fundraiser will allow us to continue campus-based scholarships that have long been a tradition at Clear Creek High School. In addition, we want to make improvements to the courtyard which is the centerpiece of our beautiful campus," Majewski said.
Possible campus beautification projects include new seating in the courtyard, reconstructing green spaces for use by classroom teachers and rebuilding the courtyard gazebo. The gazebo was a place where students gathered for group photos and camaraderie.
The money will also be used to finish the restoration of senior class photos discovered in the latest campus construction readiness. Currently on display are the first 30 years of CCHS graduating classes with the last group left to be restored and hung.
We are hoping to have involvement from the CCHS faculty, parents and community members. Topgolf can be enjoyed by all levels of golfers from novice to the experienced player. The event should not only prove to be a fun-filled afternoon, but also raise funds for a worthy cause.
If you would like to participate, donate an item or be a sponsor for the event. Please contact CCHS at (281) 284-1700 and ask to speak to Cathy Donahoe. You will find the event flyer for participant registration at the Creek HiLife and CCHS webpages. It will also be available on Creek HiLife Facebook.
The committee is also seeking sponsors for the event. Sponsorships at the following levels are currently available:
$150- 1 entry & banner advertisement
$250- 2 entries & banner advertisement
$500- 3 entries & banner advertisement and Bay signage
$1000- 6 entries & banner advertisement and Bay signage
CONTACT CATHY DONAHOE
281-284-1712
Topgolf entry flyer PDF of flier with entry form and T- shirt order form
Sponsor letter  PDF of sponsorship levels
Donation letter  PDF of donations for silent auction, goodie bags and/or coupons, door prizes